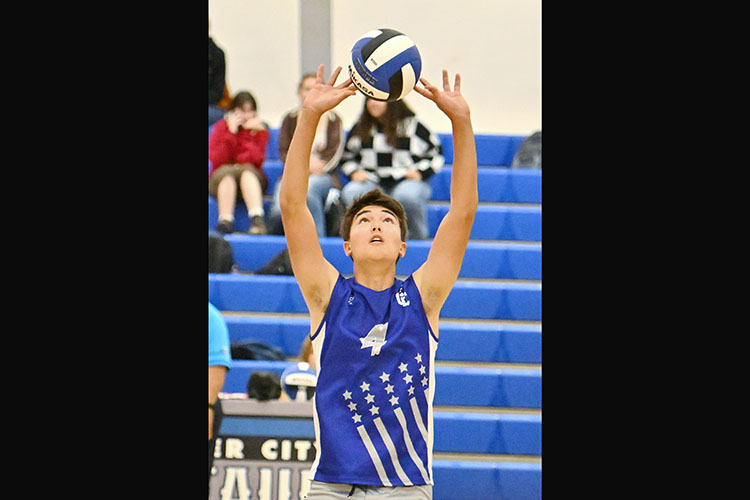 What do you do when you have a losing season in sports? Do you give up or do you keep fighting. Just like their injured head coach, Joe Manzo the Culver City high school boys' volleyball team continues to battle through a super competitive Bay League with inexperience players.
The Centaurs are currently 9-17 overall and 0-9 in league play and they played their final game of the season last Wednesday on Senior Night. That's the bad news. The good news is that they took second place in the annual Culver City Invitational Volleyball Tournament last Saturday at Culver City.
"We have a bunch of new guys playing this year," said head coach Manzo who has been battling a back injury since January. "This year has been tough on me because of my back. I have been coaching from a chair all year, so I have not been able to physically show them, but I have been communicating verbally and they are learning, and they are supporting each other."
Competing in the eight team Culver City Tournament gives the Centaurs an opportunity to play against teams on their level because the Bay League has two of the best teams in the nation in Mira Costa and Redondo Union. Culver City won four games in a row last Saturday before losing to Wiseburn-Da Vinci in the championship match. "I like the tournament because we play in a tough league and most of the teams in the tournament are at our level but playing in the Bay league gets your mind ready to compete no matter what,' said senior Tyler Chang.
"I love the turn out," said Manzo referring to the Culver City Invitational who has been coaching volleyball at the high school for 12 years. "The teams here are great. It's a good local tournament. The competition level is where we can compete at because playing in the Bay League is very challenging."
Every year presents its own challenges because most of the players that play for Culver City are student athletes learning to play volleyball. According to Manzo his main job is mold athletes into volleyball players. One of those athletes is 6'4" junior Henry Brownlow. "Henry is an amazing athlete," said Manzo. "He is the punter on the football team. He wanted to play a different sport, so he came out for volleyball, and he has improved every single year and we still have him for one more year which is awesome."
Brownlow is having fun playing two sports. "It's great. I love playing two sports. That's why I am playing volleyball. I play sports year around and I love it. Culver City has a lot of good athletes so it's great to come out here and represent."
Another player returning next year is the only sophomore on the team, Kenji Toombs. He is also one of the few players in the last 12 years that has played club volleyball. "Club volleyball helps a lot," said Toombs. "Not a lot of kids play club volleyball at Culver City. Volleyball is my main hobby. I used to play video games, now I just play volleyball. I have made a lot of improvements this year trying to be kind of a leader, but I still look up to the older players on the team."
The boys' volleyball team also has something no other team has at the high school. They have the person with the top-grade point average. Senior Matthew Cowan is the epitome of a student athlete. He has a 4.5 grade point average. "I think it really makes my life more complete because schoolwork is important, but you don't want to be a one-dimensional person. I love competing and I want to keep playing sports the rest of my life."
Making the All-Tournament team from Culver City was Abdallah Abdallah and Dave Valenzuela. The Most Valuable Player was Amir Grant from Wiseburn-Da Vinci.
---