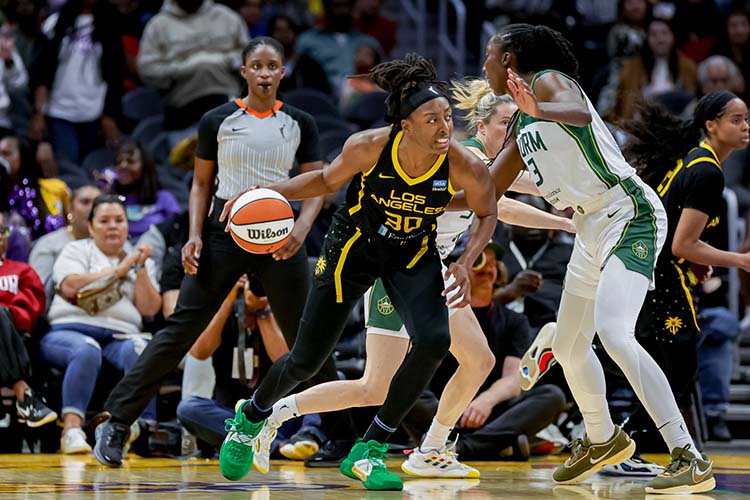 By Mykell Mathieu Sports Reporter
The WNBA season has hit its midseason point and if I had to use a phrase to describe the Los Angeles Sparks season so far it would be: bad luck is a real thing.The Sparks came into this season with hopes of returning to the WNBA playoffs for the first time since 2020, but, injuries and illnesses are making it tough.
All of Los Angeles' key players have missed time during some part of the season and some of those players continue to be out. Forward Katie Lou Samuelson has missed every game due to her pregnancy. Guard Layshia Clarendon has missed up to a month due to a partial tear of the right plantar fascia and guard Lexie Brown who looked like she was on her way to an All-Star spot, has missed the last 10 games due to a non-Covid related illness. Because most of those players are guards the backcourt play has faltered with their time away from the floor.
"We have players that weren't on opening day rosters now playing and it is what it is until we can get back to full strength," said Sparks coach Curt Miller. "Its going to be great learning lessons for these guys".
The Sparks have been relying on a lot of youth like hardship players like guard Destanni Henderson, forward Rae Burrell, and rookie guard Zia Cooke. Also the Sparks coaches are having to give veteran guard Jasmine Thomas more minutes than they would like to because she is returning from an ACL injury. It's becoming extremely hard for this team to build momentum and win games.
" It doesn't matter if you have eight players, nine players. I'm resigned to the fact that we may never play with 11 players this year the way this season is going," said Miller. "It doesn't matter if we have eight players, we have got to play hard and try to create the foundation and a culture that we want to rely on years from now."
The team has suffered defeat in their last six games so the All Star break couldn't have at a better time. There is still some hope because Los Angeles is sitting just one game back from the eighth seed with hopes that reinforcements will be returning soon.
Eight teams make the WNBA playoffs and the All-Star game will be played on Saturday in Las Vegas at 5:30 p.m. The Sparks next home games will be Tuesday, July 25, at 7 p.m. against the Fever and they will play the Fever again on Thursday, July 27, at 12:30 p.m. On Sunday, July 30, they battle the Liberty at 1 p.m. and on Tuesday, August 1, they face the Liberty again at 7 p.m.
---